OLGA STOJANOVIĆ
CONTRO-VERSION AND PER-VERSION ABOUT THE THE BOY FROM THE YELLOW HOUSE

Source: WRITER'S JOURNAL OF THE ASSOCIATION OF SERBIAN WRITTERS
Controversial young Author Saša Milivojev, a revealed columnist and the man in the considerable ascent, regardless of
the confessional dives, among other things the Author of the book "The Love Recipe", who - as the folk epos dictates – "Bears his left in his right arm" – Milivojev alias THE BOY FROM THE YELLOW HOUSE emerges with his novel at the time that overshadows even the phenomenon of the publicistic actuality.
With this shocking title and its sequent content, that is prominently Faction rather than Fiction, the Author insolently, in a manner that must pay off, expresses his gratitude appropriately to a certain longevous Dame, Instead of a Foreword... It is neither easy nor difficult to discern or confirm that the Dame is in countenance and deed once the Serbian antagonist No. 1, and today potentially the Serbian supporter No. 1, the weather-beaten and manly Carla del Ponte, as jargon would say: "A chick with a prick "!
With the elegance of a truly unbridled, and to the articulation often inaccessible gift, in the confessions of THE BOY FROM THE YELLOW HOUSE, Milivojev emerges as a very skilful Master of the dialogue, achieving what is seldom encountered in the great literature: THE PATHOS. Even the cover design is as brutal as the entire contents of the book, but it is thoroughly stylistically pristine, with a certain Arabic absoluteness that the writer is not unfamiliar with, and the reader may even grow enamoured with!
The book by Saša Milivojev is in a way current and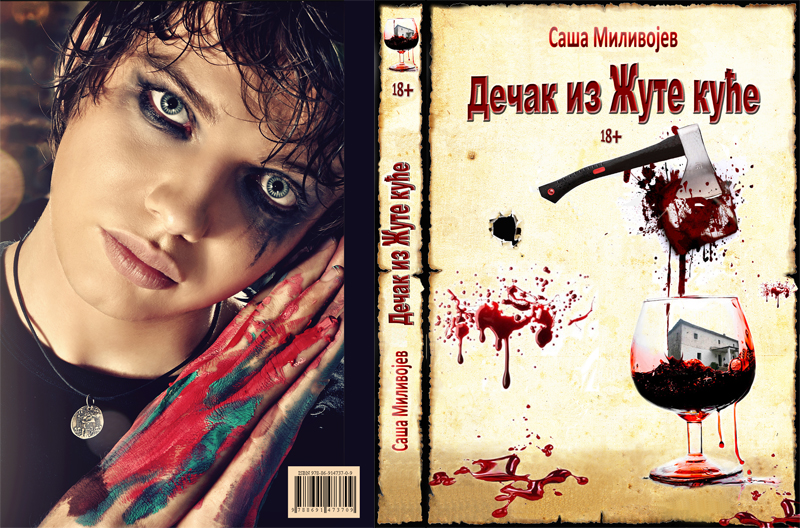 conforming to our times, and no less but for its "abusive character" because it hits the target that is difficult to vocalise in the free expression (Art form), regardless of how effortless it is to explicate it in the media. Milivojev opted for this initial, harder task, risking life, death, fall and resurrection in the first person singular, playing both parts simultaneously: the role of the abused and the role of the abuser, but in poeticism of his own.
This book should have an appropriate repercussion, even if it is in the alternative culture society. It should also be said that the young author has, in some reckless valour also surpassed the functionaries that will cognize in some nth millennium the genuineness of this case, in fact, he forestalled their insipid languor and corruptible courage.
The reading does not succumb to the literary nor pernickety critique, yet only praise for the very act that remarkably didn't unbind solely this author in the moment of revelation. So be it PER-VERSION as well as CONTRO-VERSION, it is certainly as virtuous as it is brutal sub-version of any detention and withholding on measure. The measure of Saša Milivojev is a strong two lb of dough and four oz gratis.
Translated by Ljubica Yentl Tinska
www.sasamilivojev.com
Copyright © by Saša Milivojev, 2019 - All Rights Reserved