Saša Milivojev
WHEN THE FIREFLY IS GONE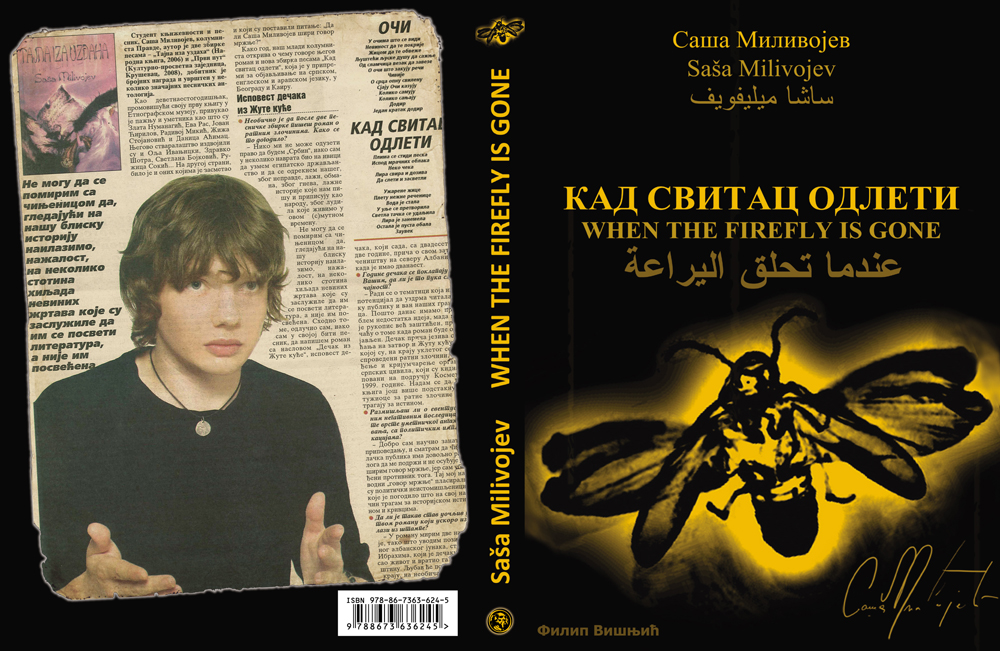 ---
Saša Milivojev
Nine
Evening
A bright speck soars
Darkness from the sky
The spinning of a wedding dance
The sound of waves crashing
Against the rocks
Lava runs through the veins
A multitude of larvae
Behind the rocks
Shine instead of moonlight
---
Saša Milivojev
In the eyes it is seen
Innocence to tuck you in
To bind you with wire
By peeling off the scales, to consume the soul
To make a coronet of straws
For the eyes that nail the words
Like stakes
To the heart's silk membrane
The eyes' shine tells
How lonely they are
How dreamy they are
For a touch
A fleeting touch
---
Saša Milivojev
There was a dance of light
In a gloomy room
My battle within a battle
Tiptoeing
Not to be heard
In the nook of my ailment
Of a dream eternal
Imagination refracts
Into a fan of rays
Waiting for a sign
My soul dreams
My heart is forged
My body is still
Yet someone can hear
A fervent word spoken
As hot lead
Letter by letter drips
Like an echo from the abyss
The climax of a magical tune
Invites my dreams
To catch the words
For you
For me
For us
In our nook
Of secrets
---
Saša Milivojev
Perfection in feathers
A halo caught in black hair
My penitence eternal
As fear turns me
Into dust
My heart snaps
Like guitar strings
The body is not a body
As she won't say
She also longs
To melt on the iceberg
---
Saša Milivojev
Imagine
You and I
Destiny
A night awakening
A spring that brings calmness
Body against body
Eye to eye
Wine and fire
Heaven opens
Sand and sweat
Waves crashing
A touch irresistible
Alone
Free as birds
Broken by love
Exhausted by passion
---
Saša Milivojev
Just one more moment
Of dying for you
An aching wound inside me
Nourishes body and soul
Like a salty tear
You are my aching wound
Let me beg you
And love you and love you
Like the bees love the flowers
As a swallow on one's palm
As spring in blossom
I love till the world's end
Just one more moment
Of dying for you
---
Saša Milivojev
Love
Like an endless river
A firefly awaits
Shining from afar
Behind the darkness
Behind the clouds
Behind the sighs
---
Saša Milivojev
Go
When you awake
Spend the day with another
Vanish like a dream
The moonlight has dripped
In my eyes
I have no more words
Go
We have tried so much
Yet we have lost
What we dreamed of
We loved each other so much
And now I say
Go
Vanish
Vanish into oblivion
---
Saša Milivojev
Come back
In a slumber
In a contellation
I listen for your soft steps
Vanished touches of mute fingers
Wrap my untouched neck
Like a wineglass overfilled
Like mother's warmth
I miss
Your dazzling visage
Come back
From afar and remember
Our stage that is washed
By silver rains
Come back
From afar
Say my name no more
But come back
And use no more
Wingless birds to send
Teary letters
In the faded skies
Search for a path of return
As I have waited for you so long
I play with tears
Living every tone
Of our song
Come back
Freeze next to me
So we can melt together
---
Saša Milivojev
Stillness stillness stillness
Stillness stillness stillness
A candle burns softly
Vanishes
The ink from the quill
The moonlight calls
Seeping through the windows
Stillness eternal stillness
Walls uttering
Words
Soothing aches
I put out the candle with a tear
And followed the moonlight
To search for happiness
Through a dark forest
In a wrinkled slumber
I listen to the beasts
Breathing
A plough
I drag
My soul
Attacked by them fiercely
And when a cloud covers the moon
A firefly leads me on
Lighting the way
The slumber never to end
---
Saša Milivojev
Clear water
The smell of withered nature
I sneak through your thoughts
You lead me to oblivion
Shedding endless moonlight
You
Like a wonderful rainbow
I breathe you in
As warm southern air
In ecstasy
A trace in time
An inscription on the stone
A memory of you forever
Like when the painting fades
Suddenly
Take me to the past
So I can give you back
What you gave me
I disappeared in a gust of wind
That summer long ago
When sadness stood between us
The clock fell silent
And I continued promenade through
---
Saša Milivojev
A circle of fairies enraptured
When a soul dreamed the word
I was drawn by a fairy's hair
Infinity smells like her
In my yearning
I was lost
The circle danced blindly
And then I told you
I wished to leave and for you to take me
To sheets of white
And again whenever I remember her
And how we played
When the clock chimes from afar
The distant golden hair
On which I fly to joy
When I feel again
The youth of a hungry heart
The circle ticks and tacks
---
Saša Milivojev
Take me to eternity
With the smell of moist hair
With the sadness of a spring night
Take me
I lie on a black moth's wing
Circling round the lampion
Through the darkness
Vanishing like dust
Carried by the wind
The truth I won't accept
Saddened by the cold look
I fall into Hades
If you still exist
Come and take me to the midst of people
---
Saša Milivojev
With the music
As if it were spring
I wandered into the woods
Riding a stag
Deprived of time and love
There
Where shadows grew vivid
Where black snows fell
I searched for the river of wine
Intoxicated by the smoke
Of a burning thicket
What I longed for
Rots again
There
When I told
The fairy on water
To take me
With her flaming hair
With dew so fresh
To her white garden of magic
When the soul ascends
It vanquishes the ritual
And freezes the heart
I will release the stag
And nature will lead it
Across the river
Far away
---
Saša Milivojev
I throw memories down the well
And, leaving, I hear the echo of tears
I do not want to have my face
Treading on my own verse
Tied in knots
Like a frightened doe
I run across the glass bridge
To the old place
Where Light and Darkness part
Where sweet dew awaits me
To play a man again
To hear the sound of a horn
To reach the market where dreams are sold
Where they cure aches and memories
You will never hear me laugh
For I still mould my sin
And wait
Wait for you
To cross the glass bridge
---
Saša Milivojev
My life is in C minor
Lost in harmony
It urges me to remember
To rise and fly again
To show I know how to love
That which dominates
And plays with me
To give up
To resolve
To turn into stone
I'm a cursed C minor
Sing through me
If you sing E
I am here
If you sing A
I am modulated
And a new life begins
Everything takes a different shade of sorrow
While they laugh at me
For adorning myself with A minor
Hey
I closed the piano lid
And echoed away into silence
In order to return in three years
To open the lid and know forever
That my soul sings in C minor
---
Saša Milivojev
On the first floor
Whiteness
A faded memory
A saddening distance
No one is around
I shut the iron door
I pushed number two
Afraid of unease and memories
Screaming
I was five
On the third floor
I saw
A multitude of children moving
The swallows' first flight
And me falling down
From the flock
Into black mud
Yet the heart of jade
Is on the fourth floor
I spoke to the flock
Through my poems
My first colours and tones
A poet's fate
The cable snapped
I fell into the basement
Condemned to wander forever
Through its labyrinths
---
Saša Milivojev
I run
Everything looks the same
Grey
Disquieting
Still breathing
Corridor after corridor
I shout
Evading the shadow
Cold
Brightness sucked in by the fog
I move towards the light
To catch its end
I hear a voice calling
I look at the clock
Time playing with me
At each corridor entrance
I decode the number
I will die
Sweat dripping
They loved me
They locked me in the labyrinth
My strength is almost spent
My soul is leaving
You will find me
There at the end
Through brightness into infinity
---
Saša Milivojev

Again
I am born again
First breath
Pain
Crying
Again I see arrays of colours
Everything has changed
What madness
It's like a fairy tale
The taste of mother's milk
I stretch
I grow
Lost in the sounds of a dream
The light plays
At the verge of time
Crawling on scratched knees
When I unknowingly said
Momma
From a distant memory
Walking
Going up and down the stairs
Eager to try it all
Wandering far away in my thoughts
Speaking with nature
Intoxicated by her melodies
And when they yelled at me
Don't do that and that
Through life I walked
Clairvoyant and blind
To kindergarten
Where I met friends
With bat ears
And there I sat alone
Not vain
But lonesome
Lost
In my own landscapes
And when I burned the colouring books
And discovered the sound of the school flute
When I felt the strength of written words
That heal the darkness
I wrote
I played and sang
Until I fell in love for the first time
And woke up again
Biljana
Marija
Tijana
Hermina
Marina
Dragana
Sladana
Who would think
That I loved so much
And played music for them
First cigarettes and drunkenness
Bad company
I see myself in the fog
When I was a boy
Who could not show emotions
When I created illusions
Of having friends
Behind the darkness
Friends that know my
Secret behind a sigh
They laughed behind my back
When I painted too
In each effort of mine
They saw an unsound mind
Let it be
I fight
Not afraid of fate
And loving my age
---
Saša Milivojev
I fall with the rain
Courage is urging me
To say to the people
No
A wonderful lightning on my face
The terminus of a silvery fancy
Calling me
Tell me an honest poem
So I can fly with it
And a word of comfort to ease the pain
For long have I searched
A candle in the dark
Dying in fear
I listened to the pain of night birds
No
A late-night hour
Calling me
To share the solitude
Calling me
No
I said
No
---
Saša Milivojev
I started walking thirsty
An endless expanse
I saw myself on the other side
Walking towards me
Am I him
Or is he me
My body carried me
Not deluded by the dream
Thick wheat slowing me down
Sweat trickling
The sun murderous
Then he saw that I was he
And fled into the sunflower field
Tired of searching
In vain
I went home
Without myself
---
Saša Milivojev
You forbade me to gaze at the Sun
And when dresses fall from rooftops
You forbade me to laugh
And cry in grief
You forbade me to love
To think freely
To have a grain of hope
And while I fall from the sky on the concrete
Please
Let me live
And sneak away
Into my vicious cycle
For which I long
I will go on singing
What you want to hear
I will just sing
But I will never get over
You forbidding me to sing
---
Saša Milivojev
Here I fall again
A drop from a roof-gutter
Alone
A message dripping
Sadness springs from the heart
I hear the tambourine in my silence
When friends break your heart
No one around to help
Alone
Like a bird in a cage
Daylight
Awaking delirious
Wine and cigarettes
Colours
Songs and notes
I fall down the scale
Composing tunes
Light specks
Land on ledger lines
I see myself upside down
Laughing and rejoicing
In my own bonds
Alone
Like a bird in a cage
A dream
I am lost in madness
---
Saša Milivojev
Bitterness
I have no one
To dedicate my poem to
Emptiness
Silence echoes
There is no one
All those I respect
I cannot reach
To show them
I'm ordinary
Normal
And reasonable for everything
I write
Hoping that someone will hear me
And I have no one
To dedicate my poem to
---
Saša Milivojev
Concrete
Glass
Rain
Gloom
All is withered
Black birds
I'm at the beginning
I'm at the end of the alley
O, Virgin
Please
Every verse I will sing
You genuinely verify
Through new eyes
The remnants of people
I recognise in satyrs
That walk around in metropolises
Using lies and cheating
Adorning themselves with others' merits
Fighting with hidden horns
The remnants of people I recognise
In rabid cats
That lurk and bite
In blind alleys
At pharmacies
In discotheques
At desks and hotels
In exclusive restaurants
In theatres and on screens
Tetanus for the body
While the soul is rolling
Like a ball on the concrete
Wild sex
Opiates and gandbangs
Whips and feet
And blow-up dolls
Business
Prostitutes
Innocent girls
All along the alley
We nourish predators
And see nothing when they catch their prey
---
Saša Milivojev
The smell of must and decay
The mouldiness of walls
The smell of dirty dishes
Torn underwear instead of a mop
I look at the crumbs of the floor
I drink yellow water from a filthy glass
I listen to it nibbling on something
Crawling in the sink
Sitting quietly with a cigarette
I saw the tail on the plate
Moving
A puppy under the table
Groaning because of fleas
A bowl with milk
Full of bugs and flies
Ooh
A mouse on the plate
I took a dirty ladle
I'll go crazy
It pointed its grey ears
I watched it
It watched me sorrowfully
As if it knew its fate
It made no move
The ladle banged on it
It screamed with pain
I'm sorry that it was
A victim of dirty dishes
---
Saša Milivojev
We met at the staircase
It looked at me
I looked at it
It was thinking
I was thinking
It smiled
I smiled
Then I took it in my hands
And stroked it
---
Saša Milivojev
They are leaving
Through my dirty windows
I see the shadows in the distance
The sound of footsteps disappears in the silence
And a voice lures me
To scream out my tears
To return into my madness
To forget everything
To hang my soul on the washing line
My heart to stop the earth
To put the sun out
The End
---
Saša Milivojev
I return to you Lord my God
Punish me
Punish me for not loving
Punish me my Lord
For not praying to you enough
So that my hands are not empty
For not feeling a warm look
For running away from the warmth
Punish me
For not fearing loneliness and silence
Like an intoxicated dance of fire
My every thought is a sin
My every smile
Punish me
Kill me
Our father, who art in heaven
Hallowed be thy name
When my body is laid to rest
May your kingdom
Take me in its chains
It is your will
I know
You know
Everyone knows
This pain is tearing me apart
And forgive me not my trespasses
As I forgive not
Those who trespass against me
I went through all the temptations
And came back to you again
To pray to you
Not to deliver me from evil
On earth as it in heaven
Let my body disintegrate
Punish me
Please
Kill me
Let no one
Shed a tear for me
Or say anything
As no one can be
Genuinely hurt
By God's peace
I only wish
To sleep forever
---
Saša Milivojev
A firefly shines
It dawns in the distance
I change my clothes
In the dark silence
It's freezing cold
A cathedral
I will open its door
I will climb the stairs
I will jump on the clock's hands
A sheep is rolling over the sky
The priest is waking up
Time takes away my staff
And the constellation is raving mad again
---
Saša Milivojev
East
I exist
I stand
Frozen in a cursed temple
A black crow in my hand
Blood is trickling down the frescoes
Grave suffering
Saints are crying
Walls are moaning
Like an echo from the past
The fog
Before the sacred altar
It's all desolate
Like the Sahara
My heart is being torn apart
It's all black
The only thing shining above
Is a half of the innocent Jesus Christ
I exist
I stand
Frozen
I feed on sinful blood
I move to the West
To the cathedral for an attack
Feeding the flock with my poems
And there I find the same
Myself standing
Frozen
Afraid of the hoarse sound of the organ
But since I exist
I will not allow
Oneness to be on two world's sides
Fate is still cursed
I stand
Singing a sad song in the choir
Frozen
Like a chestnut in the wood
Helpless
I stand
Frozen
I
Where the sun rises
And me here
Emptiness
I have nowhere to go
Crucify me too
Without the last sip of wine
---
Saša Milivojev
I woke up
In an old church
Its roof leaking
A drop fell on my forehead
And I saw God's face
---
Saša Milivojev
Let me go
My life is a poem
My word a fountain
To quench your thirst
I
A servant of God
The advice you reject
I claim that I speak unconsciously
That I do not play with that
Which entangles within me
As a tone in hair
My soul is carried
By something high
Above and away
Too far and deep
Do not reject me
Let me go
Though I'm just a poem
Which is spoken
God is in me
So much that I become unaware of letters
The tireless hunt for words within
Let me live
As long as there is something to say
Once my hand turns into stone forever
My life is a poem
God's flame
Let me resurrect
---
Saša Milivojev
Again I hear the trumpets
And a wedding party from afar
It raises the dead
They are coming
And I'm leaving
Embroidering the shroud
For myself
Made of cheap verses
Of wails and pains
That no one can hear
In the silence
At the crossroads
I speak to the Light and the Darkness
---
Saša Milivojev
White, everything is white
The walls are moving
A body in hospital sheets
White horses pull the bed
The soul crawls behind them and begs
White
Around the bed
Angels dance in a circle
The sky sheds its clothes
Give me back my body
To forge my heart
I do not want to travel anymore
Through this endless field
Wrapped in white sheets
---
Saša Milivojev
When I climb
Up the tall clear sky
A narrow path unfolds
A see-saw screeching beside it
I rock on the glowing beam
Watching through the clouds
They climb up the threads
And turn into flowers
Cursing memories
The dream crumbles down
And the meadow above
Sings at the top of its voice
---
Saša Milivojev
At heaven's door
I watch through the keyhole
All my friends
Angels and devils
Chasing me
The opera has started
But I heard no overture sounds
Running away on the milky way
Picking fond memories from the sky
No longer do I recognise those faces
I stumbled over
The fake tears of the moon
I open the door
Returning to myself
And they are left with a shadow
If someone understands
That an archangel will be sculpted from it
I am leaving
My music is not there
The knots of my verses that I can untangle
Are not there
---
Saša Milivojev
Plus and minus
The sun
The moon
The earth
A fervent wish
The harmony of bodies
Minus and minus
When one has no one
Has nothing
Is with no one
Plus and plus
When something is calling
But rejecting
The sound of a sea organ
The clash of clouds
The blood quickens
The sun plays with lava
People will be stripped of their poles
---
Saša Milivojev
Apollo's discus
Fine blond hair
The echo of the universe
The strong winds of Zephyr
The sun's heat
Melted the wax wings
And I fall again
Why am I not a shadow
To be torn into two pieces
In the air
Why do I not have an apple instead of a heart
To have an arrow driven through it
Why is uncertainty so agonising
Let the blade cut the neck
A curse
A choir is singing
Purple colours of dreams
A verse fallen from the lips
The thirst of withered lilies
From whose petals
We will hear a woeful
Cry
---
Saša Milivojev
God is sleeping
I hug the sun
In the orange sky
The magnet is playing
Orange hookah
The muddy water of the Nile
A secret
An echo of silence is heard
Fingers on lips
A thought
Pyramid in the chest
Shiny steel
A touch
Like a mummy
I fell asleep
Eternally
Among red corals
And God is awakening
---
Saša Milivojev
I trembled when you were gone
Away from the terrors of time
Metal and synthetics
In the Near East
I float on a kilim
Down a gusting wind
Allah
Raises dust
Water, closer
The smoke of a hookah
That's what we are
Shhh
Something's breathing
It's me
It's you
We are lost
---
Saša Milivojev
You
The Ruler
The Master of Worlds
Allah
Merciful
Compassionate
I praise and pray
Before my I eyes I had a veil
Grave suffering captured in my body
I waited
In the lines of fake believers
I did not get
A painkiller for my soul

I turn to You
For help
Take my sight and sense of hearing
If I sinned
Because I wandered
And trusted non-believers
Believed in truth and lies
You are all-knowing
I kneeled before my people
With my head down I walked everywhere
Warm words I spoke
I gave my heart
Like a mosaic to everyone
I did good deeds
I loved
Though I was never taught how
That's why I turn to You
Accept my penitence
And this book as a testimony
About those who strayed
People seem to think
The only beauty is in that for which they yearn
Women
Sons
Mounds of money
Gold and silver
Factories
Cars and beautiful horses
And I would rather go to your Jannah gardens
Through which a lovely river runs
There I will be your servant
And write poems
The way You tell me
When you put my heart together like a mosaic
My soul disentangle
Like knots
Intertwined rivers
Oh, sea of pain
I float
And beg you to open your dams
And mercifully
Compassionately
Free me from evil
---
Saša Milivojev
The tide shies away from the sand
Under the dark clouds
Someone is waiting
The lyre is calling for it
To fly down and shine
Fiery wires
Weave soft sentences
The water is still now
It's turned to oil
The light speck has gone away
The lyre has fallen silent
And the shore remains deserted
Forever
---
Saša Milivojev
Close your eyes and listen to the
Sky
Receive light
Through my body
Sky
The stars' entire light
Is absorbed by your body
From burning hands
The endless warmth
Is so beguiling
---
Saša Milivojev
Below the naked sky
A hole is seething
An avalanche is boiling
The sun is melting away
Who protects you
From the burning rain
Now that you are gone
---
Saša Milivojev
Thunder rumbles
The poles melting
Waves crashing
Towns sinking
I prayed to heaven
The wind has extinguished you
I will go barefoot on ice
Freeze myself going after you
My love
---
Saša Milivojev
Black mountains are crumbling
The locusts hiss all around
Suddenly all is gone
The buzzing has harvested it all
Gnawed bones
Float soaked
---
Saša Milivojev
An endless plate of ice
The camel carries me
Treading heavily
Icy tears from sobbing splutter
It stumbles
Over the tips of the pyramids
Weeping
The soul is wrenched
My firefly is not here
At nine
As it once was
---
Translated by ALKEMIST
European translation agency
Copyright © Saša Milivojev, 2010.
Copyright © for Serbia: Filip Višnjić A.D. 2010.
This publication, or any parts thereof, may not be reproduced, reprinted or communicated in any form or by any means, without the permission of the author or the publishers, nor may it be distributed and reproduced in any other manner and by any other means without the permission of the publishers. All rights reserved by the author and the publisher in accordance with the Law on Copyright and Related Rights.
www.sasamilivojev.com
Copyright © by Saša Milivojev, 2022 - All Rights Reserved